These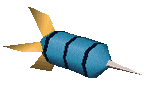 darts do very little damage, and
Twinsen
can only carry up to three of them, but after thrown they can be picked up again.
Darts aren't very usefull in through the adventure, but they are used in the duck shooting game of Temple Park, and shooting darts at FunFrock's bust in the basement of Twinsen's house which makes life candies appear.
Darts can be bought at Mr. Bazoo's shop, at the shop in Port-Ludo, or at the duck shooting game in Temple Park, for 4 kashes. They are also found in Twinsen's basement.
Ad blocker interference detected!
Wikia is a free-to-use site that makes money from advertising. We have a modified experience for viewers using ad blockers

Wikia is not accessible if you've made further modifications. Remove the custom ad blocker rule(s) and the page will load as expected.