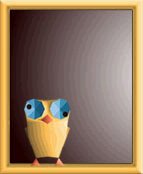 The golden owl is a little wind-up mechanic owl (similar to a Meca-Penguin) that roams through the Island of the Francos. This little toy seems to have certain atraction for shiny objects, which it steals and takes to its niche. Twinsen finds the Burgermaster's key in its niche.
Ad blocker interference detected!
Wikia is a free-to-use site that makes money from advertising. We have a modified experience for viewers using ad blockers

Wikia is not accessible if you've made further modifications. Remove the custom ad blocker rule(s) and the page will load as expected.