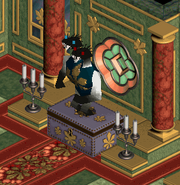 This two headed monster is in the last room of the Emperor's Palace, guarding the Fragment of the Sups. When Twinsen gets to the chest, the monster seems to be some kind of statue, but when he gets close, it turns into the monster. The origins of this monster are unknown.
Lightning spell has no effect on it.
Ad blocker interference detected!
Wikia is a free-to-use site that makes money from advertising. We have a modified experience for viewers using ad blockers

Wikia is not accessible if you've made further modifications. Remove the custom ad blocker rule(s) and the page will load as expected.