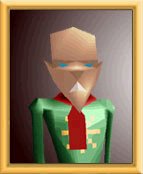 Johnny Rocket is a the first Esmer to set foot on Twinsun. He lands on the shuttle that arrives as soon as the storm is cleared, in a diplomatic mission. Despite being part of this Emperor's mission, he is part of the dissidents, and when Twinsen is sent by Rick to talk to him at the Imperial Hotel, he helps Twinsen meet the dissidents by telling him that they do secret meetings in the souvenir shop, and giving him the Ring of the Dissidents.
Ad blocker interference detected!
Wikia is a free-to-use site that makes money from advertising. We have a modified experience for viewers using ad blockers

Wikia is not accessible if you've made further modifications. Remove the custom ad blocker rule(s) and the page will load as expected.