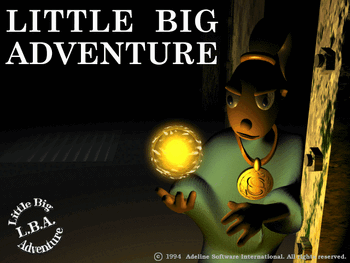 Welcome to the Little Big Adventure Wiki
Welcome to the wiki. We're a collaborative community website about LBA that anyone, including you, can edit. Please join and help this encyclopedia grow! If there is any information or new articles that you want to add, click on contribute and chose to edit a page or create a new one! If you have any advices or opinions on the wiki, please join and comment, so that it can evolve from the feedback.
Haven't joined yet? Log in or Sign up to take part of this Wiki! You can start editting, creating a new page or uploading a file.
Here is a list of the most wanted (most linked to) pages that don't exist and you can help create, and here is a list of article stubs that need more information.
Polls
What is your favourite island? Vote here.
Content
 Characters       Species         Planets        Islands        Locations        Items

News
The creators of LBA and LBA2, Frédérick Raynal, Sébastien Viannay and Didier Chanfray announced that they are working in remakes of those two games, and that they will eventually be used as guinea pigs to add a third game to the series!
MagicBall Network
The main LBA related site and its forum where you can find lots of info, pictures and projects,
LBA Wiki en français
A very complete wiki of LBA in french: http://fr.lba.wikia.com