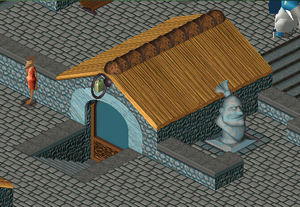 This bazaar is in the second level of
Old Burg
. Its owner,
Wadbull
, is a
rabibunny
who is always glad to be helpfull to his clients.
The store had a book about the pirate LeBorgne, but it was sold to a grobo who works at the library, and also had cherry syrup for sale, but they run out of it. Luckily, Wadbull tells Twinsen where he can get one: at the pharmacy of Lupin-Burg. Apart from that, the goods for sale are the typical ones.
Items for sale
Edit
Ad blocker interference detected!
Wikia is a free-to-use site that makes money from advertising. We have a modified experience for viewers using ad blockers

Wikia is not accessible if you've made further modifications. Remove the custom ad blocker rule(s) and the page will load as expected.