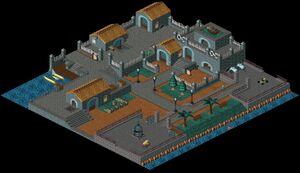 Proxim-City is the main city of Proxima Island. The city can be accesed through a small dock, and has two main parts, the west part, with only a couple of buildings, and the east part, more dense and populated.
The main street is Ferry Street with a sewer system underneath.
Locations
Edit
Characters
Edit
Hair Dryer seller

Lanktir's Sphero friend

Rabibunny at the roof of the musem
Ad blocker interference detected!
Wikia is a free-to-use site that makes money from advertising. We have a modified experience for viewers using ad blockers

Wikia is not accessible if you've made further modifications. Remove the custom ad blocker rule(s) and the page will load as expected.