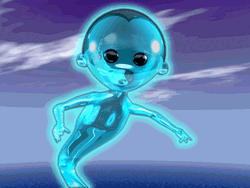 Sendell is the goddess of Twinsun, actually a race of entities that live in its core. They have been contacting Twinsen's ancestors to preserve the Legend that will save the planet in the future from FunFrock's dictatorship.
She and other Sendells are watching over a Stellar Entity that is in gestation in the centre of Twinsun.
In LBA, she calls Twinsen for help in his dreams, warning him of FunFrock's dictatorship.
In LBA2, she helps Twinsen defeat FunFrock and save Twinsun again.
She is voiced by Julie Bataille in French, and Trish Kessler-Caffrey in English.
Ad blocker interference detected!
Wikia is a free-to-use site that makes money from advertising. We have a modified experience for viewers using ad blockers

Wikia is not accessible if you've made further modifications. Remove the custom ad blocker rule(s) and the page will load as expected.